Concept
PPJ will support the development of the science and technology. Additionally, We will contribute to protect all of the global environment and enrich people's livings by offering the technology with safety generation and control of the extreme situation; Pulsed Power.
Corporate Principles
We cooperate with research laboratories such as universities and national research institutes. We will systematically do the Maintenance, the development, and the succession of the pulsed power technology in our country.
We always try to study, and to create new social needs in development and the improvement of the technology.
We try to collect overseas technical intelligence, and always aim at the top technological level of the world.
Message
I have studied pulse power technology at Nagaoka University of Technology, and have developed a large number of pulsed power systems for many research institutions.
Our company is young and small, but We can provide the excellent technical service which specialized in the further state-of-the-art pulse power technology.
Our hope is that we contribute to development of technology with the clear technology based on the experience and the achievement for over 40 years of the high voltage, large current pulsed power devepolment.
Moreover, it cooperated with the universities and the research institutes engaged in research of pulse power technology, and I aim at becoming a pivotal organization which achieves systematically maintenance, development and succession of the pulse power technology in Japan.
Pulsed Power Japan Laboratory Ltd. President

View history list

March 1979

Hakodate National College of Technology graduated from Department of Electrical Engineering

March 1981

Graduated from Nagaoka University of Technology Electrical and electronic systems engineering course Research theme is superconductivity engineering. Half years training at the JAERI nuclear fusion superconducting laboratory.

March 1983

Graduate school MSc in Nagaoka University of Technology Completed major in electronics engineering The research theme is an additional speed of light ion beam for inertial fusion

April 1983

Joined Nippon Capacitor Industrial Co., Ltd. Assigned to the Kusatsu factory (now Nichicon Kusatsu Co., Ltd.)

1985

We completed the domestic largest light ion beam generator for inertial fusion (Nagaoka University of Technology)

1986

Completed super fast induction type accelerator for microwave free electron laser (Japan Aerospace Exploration Agency)

Inductive linear accelerator with fast response characteristics

1991

Completion of X band modulator using magnetic switch and high speed pulse transformer (High Energy Accelerator Research Organization)

1992

Completion of perfect solidification for X band free electron laser Completion of high repetitive high voltage pulsed power supply (High Energy Accelerator Research Organization)

1996

Completed accelerating power supply for NBI using semiconductor switch (Osaka University)

7. Development of condenser drive power supply by high power semiconductor switch for high power ion source

1999

Kicker power supply for KEK-B, abort kicker power supply completed (High Energy Accelerator Research Organization)
2000

Completed high voltage pulsed power supply for high repeatable high intensity electron beam generation

2001

Succeeded in semiconductorization of kicker power supply for KEK-B (High Energy Accelerator Research Organization) (Nagaoka University of Technology)

2001

Completed high voltage solid state pulsed power supply for excimer laser

2002

Completed high repetitive solid-state high voltage pulsed power supply for EUV (Nagaoka University of Technology)

2003

High repetitive semiconductor switch for three-dimensional ion implantation High voltage pulsed power supply completed (RIKEN)

15. Formation of DLC film by three-dimensional ion implantation under high vacuum

2003

Sealed C-band Modulator for SCSS Unit 1 completed (RIKEN)

2006

Completed high-capacity, high-repetition 1 MHz high-voltage inverter power supply using FET switch (High Energy Accelerator Research Organization)

Minister of Education, Culture, Sports, Science and Technology Award

Science and Technology Award

2007

Completed 100 kHz high repetitive pulse quadrupole power supply using FET and SI thyristor (High Energy Accelerator Research Organization)

March 2009

Retired from Nichicon Kusatsu Co., Ltd.

May 2009

Pulsed Power Japan Laboratory Ltd. established

Company Profile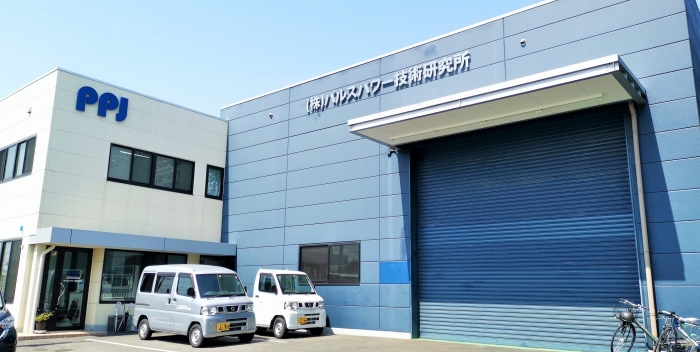 company name

Pulsed Power Japan laboratory ltd. (Abbr .: PPJ)

Establishment

Friday, May 8, 2009

Capital

10 million yen (simple substance)

number of employees

10 people

Representative

The president Tokuchi Akira

Service

Technical assistance,measuring experimental products,and a joint research on pulsed power generation and control.
Examination of specifications
Examination of Schematic plan
Design,Assembly,and Evaluation test for the experiment goods(products).
(the most suitable miniaturized design to a structural combination with the load,etc.)
Trouble shooting(Malfunction,Noise,Breakdown,etc)
Performance improvement
Experiment,measurement
Analysis,Simulation
(Circuit calculation,Strength calculation,Electromagnetic field computation,Heat conduction calculation,etc.)
joint research
guidance for the students
(Electrical circuit,Electric circuit,Electromagnetism,CAD,Circuit simulation,Experiment concerning electricity,electron,and high pressure,etc)
Part-time Lecturer
(Guidance for Master's thesis,Graduation thesis,Graduation research)

Head Office

2-3-16-103,Oji Kusatsu,Shiga 525-0032,Japan

Kusatsu Factory

61 Hashioka-cho,Kusatsu,Shiga 525-0065,Japan

TEL
077-598-1470
FAX
077-598-1490
E-MAIL
Factory
| | |
| --- | --- |
| Factory name | Pulsed Power Japan laboratory ltd.Techno factory |
| Establishment | June 16, 2023 |
| address | 3-46, 7cho-me, Nojihigashi, Kusatsu city, Shiga Pref. Japan. |
| TEL/FAX | 077-558-8810 |